About This Site
Welcome to Okayama University Scientific Achievement Repository (OUSAR) !

You can find and get electronic copies of research output from the University.

<ATTENTION>

Copyright in each document belongs to its author or publisher.
Some full text documents cannot be opened or differ from published version because of decision by its author or publisher.
(News 2022-01-05)
You can send your research output using a web form. For more information, please read the instructions below: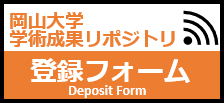 Search
Recent Additions          rss
Okayama University doctoral dissertations

Okayama University Journals